OSCE and Islamic Community sign joint statement on cooperation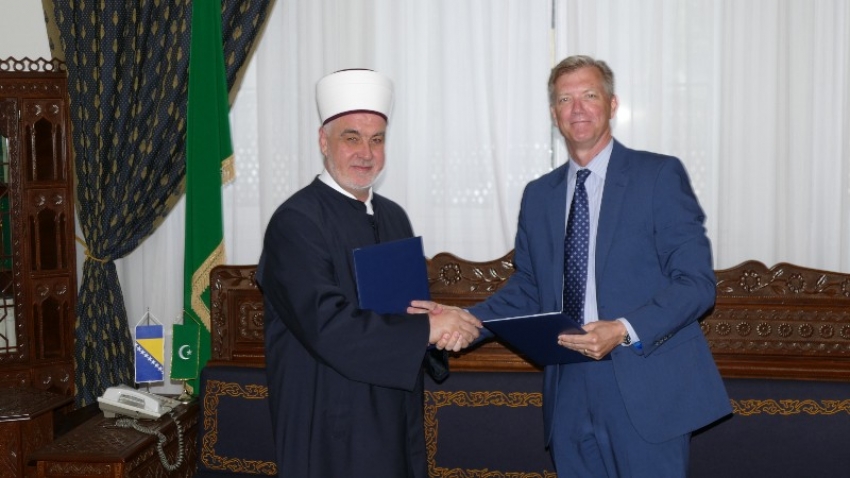 The Bosnian Islamic Community (IC) and the OSCE Mission in Bosnia have on Wednesday signed a statement on cooperation on prevention of violent extremism, promotion of the rule of law and protection of human rights, including religious freedoms.
"The role of religious communities is key for the promotion of positive values and tolerance in multicultural communities, especially at the local level. That is why I am glad that we have with this statement confirmed our commitment for continuing our joint activities," said OSCE Mission Head in Bosnia, Bruce Berton.
The head of the IC, Husein Kavazovic, said that Bosnia is facing numerous problems, such as hatred among the ethnic groups and islamophobia, adding that the common values which the Islamic Community and OSCE advocate for are respect for religious freedom and dignity for every individual.
"We Bosnian Muslims are these days marking July 11, the Day of commemorating the genocide in Srebrenica. We are fully aware of what this meant in the past, and what it could mean in the future, unless we are strongly decisive in confronting those plagues," Kavazovic said.
He added that the IC sees the OSCE as a partner and wants to continue the cooperation "in hope that we will, as much as is in our power, be able to contain the negative consequences of hate, and promote true values upon which every society should be based on."