Raisu-l-Ulama's Speech at the Celebration of the 482nd anniversary of Gazi Husrev-bey's Madrasa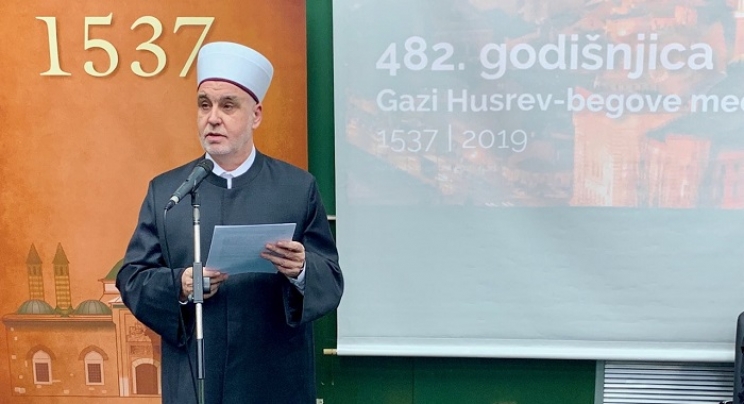 At the celebration of the 482nd anniversary of Gazi Husrev-bey's Madrasa on 8 January 2019, Raisu-l-Ulama Husein Kavazović emphasized that he knows of no "greater duty or greater priority for us, our children and youth" than education and correct upbringing. You can read the entire speech below, and the recording will be broadcast on Radio BIR.
- Anniversaries remind us of how quickly time passes. It seems as though it was just yesterday that we sat here on the same occasion. So let the transient nature of this world be a reminder to us to invest into that which is permanent and eternal, that which will stay behind us even when this world is long gone, as a permanent good deed.
This is an opportunity to remember all those who believed in the good that will last even after they die; first and foremost, our great benefactor Gazi Husrev-bey, as well as all the imams, teachers and sheikhs who carried the legacy of believing in one God. Because a permanent good deed can both be an institution we build, as Gazi Husrev-bey did, or knowledge (ilm) that is left behind to benefit others in this world and the next.
I know of no greater duty, or greater priority for us, our children and our youth than education and correct upbringing. I purposely emphasize both these components - the madrasa and the hanikah, knowledge and character building. Either one is not as valuable without the other - in our Muslim tradition, they always coexist..
I am pleased that those who have won awards today are people who provided great value to our community through their work, each in their own way. By teaching and raising young people, they incited emotions, curiosity and creativity in them, stirring their desire to gain knowledge in the most difficult period of their life - the period of growth and becoming an adult.
In our educational institutions, we must always be aware of new challenges. In the Muslim tradition, gaining knowledge has never been a race to collect more information. Our Messenger (p.b.u.h.) sought refuge from the Almighty from knowledge which is of no use and heart which does not fear Him. Schools should not just provide information, they should offer skills and values which will transform those young people into responsible adults.
Brothers and sisters,
We are aware of the rising of exclusive and radical ideologies in Europe and the world today. We must respond to that challenge in the spirit of our faith. The days ahead will be difficult, especially in the world that is based on exclusion and fear of the Other. We must cherish the values of humanism, openness and pluralism. This is particulary important for us here in Bosnia and Herzegovina. The last war and crimes that were committed are the best proof of where those intolerant and extreme ideologies can lead, and what their results are.
Even if everyone in the world and here around us gave up on the idea of peaceful coexistence, as was the case so many times throughout history, we mustn't give up on it. Because being a Muslim means being called to witness the truth, even when all men are against you.
We must constantly introduce our Islamic values into the curriculum; they are the best legacy for our future and a guarantee that we will stay true to our traditions. Only free and educated people, aware of how much their freedom had cost them, can be responsible citizens of this country and responsible members of our Community. Let us teach our children to value freedom and work, and to be free and independent of others.
Dear friends,
Today we honor many people who have in various ways contributed to the development of Gazi Husrev-bey's Madrasah and its success.
We especially honor graduates of this Madrasah, whose work, lifestyle and activism have contributed and continue to contribute to positive representation of our school and our Community:professor Džemal Salihspahić and professor Fahira Fejzić-Čengić.
Professor Džemal Salihspahić has devoted his entire life to our Community, nation and country. His idea to build a madrasah in Veliko Čajno near Visoko, which will raise future generations just as Gazi Husrev-bey's Madrasah does, will definitely remain in the collective memory of our nation. His persistence and dedication are an inspiration to many in our Community and in the whole society.
Professor Fejzić-Čengić is, I think, the first woman to receive this significant award. This makes me particularly pleased. Her contribution to our society and insisting on ethical values in the public space, especially in journalism, are proof of the significance of Gazi Husrev-bey's Madrasah in this country.
I will use this opportunity to congratulate all teachers, members of staff and students of the Madrasah on this special anniversary. This is a day when, by coming here, we show a symbolic recognition of your work and effort, effort which you put every day into raising new generations on the principles I have just spoken about. You do it quietly and persistently. As is the case with other teachers, the society raely shows recognition of your effort. So please allow me to, at least on this day, publicly thank you all for the mission you are fulfilling.
I pray to the Almighty that in the years to come, the classrooms of this school are filled with good students who are raised well and work hard. And I pray that he would make us and all the new generations which will go through this school worthy of the greats that have learned and taught here before us. They invested themselves and their knowledge in the foundations of our country and society. We can't mention them all here now, nor all the martyrs in the aggression against Bosnia and Herzegovina, but we can remember them with a prayer to the Almighty and we pray that He may shower them with His mercy.
Once again, congratulations to the winners of this prestigious award, thank you to our host Professor Hafidh Malkic and to all of you for your effort in contributing to our Community and nation. .
Dear Lord, help us in what your pleasure is.